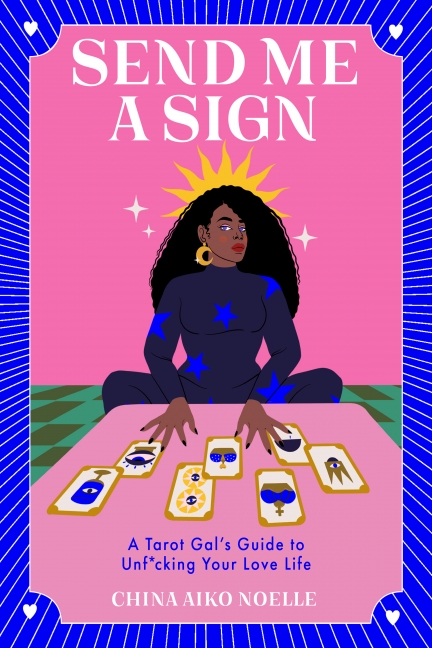 Send Me a Sign
A Tarot Gal's Guide to Unf*cking Your Love Life
Price$16.99
Format Paperback
BUY NOW >
X
Send Me a Sign
A Tarot Gal's Guide to Unf*cking Your Love Life
by China Noelle
OVERVIEW
What are the cards trying to say to you?
Lovers who break up with you, exes who mistreat you, jerks who ghost you, not to mention cheaters, narcissists, and straight-up liars—China Aiko Noelle is here to provide a life preserver for anyone brave enough to heal the wounds left by past love traumas and invite the universe to make love feel better again. A gifted tarot queen, she shares her expertise by relating no-holds-barred advice, hilarious and horrifying stories from those she has assisted, and a framework for understanding your own love life through the storytelling powers of the 78 cards.
Drew a Death card? Don't fret: this potent Scorpio energy may just mean a bad situation is ending.
Ace of Cups? You might be about to meet someone special . . .
. . . But if you see a Seven of Swords, you might want to watch your back!
China has answers to all of your questions and more. Remember, there's a method for understanding the universe, but you have to know when it's about to send you a sign!
ABOUT THE AUTHOR(S)
China Aiko Noelle has appeared as a commentator on every cable news station in the United States, as well as BBC and Sky News in the United Kingdom. She now runs multiple relationship and wellness brands, and is the editor and tarot director at Calm + Sizzle, a zesty zodiac zine, which operates The Hot Nerd Tarot (thehotnerd.com).