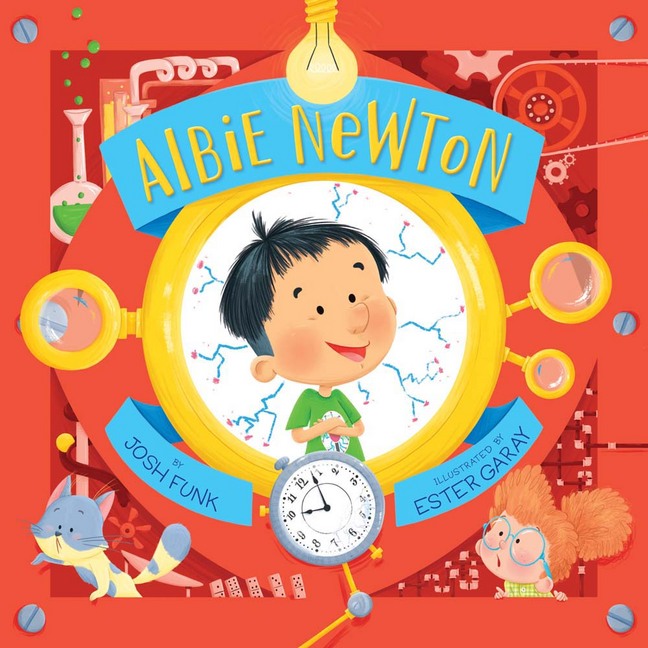 Albie Newton
Price$16.95
Format Hardcover Picture Book
BUY NOW >
X
Albie Newton
by Josh Funk, Ester Garay
OVERVIEW
"This engaging tale offers messages about being oneself, accepting differences, and forging friendships." —Publishers Weekly

Meet Albie Newton: child genius. He's a whiz at inventing things. But is he inventive enough to figure out how to make friends?

When precocious inventor Albie Newton enters a new preschool, he concocts the perfect plan for making friends. Unfortunately, it involves stealing the hamster's wheel, snatching the wings off of Dave's toy airplane, and generally making a giant mess. Now everyone's angry at Albie! Will his new invention delight the other kids enough to make everything right—and finally win their friendship? With this delightful rhyming picture book, favorite author Josh Funk (Lady Pancake & Sir French Toast) has written another winner.
PRAISE
"Funk's playful, rhyming descriptions of his impressive toddlerhood feats immediately land this story in the realm of tall tales. . . . Throughout, Garay's colorful, digital, cartoon illustrations match the text's silly, humorous tone." —Kirkus Reviews

"It will take adult readers a split second to appreciate the name of this whiz kid title character—especially given the two books (How Albert Became Einstein and Great Inventors) seen on his bedroom floor. Yet Funk (Lady Pancake & Sir French Toast) does not force the comparison, keeping his rhyming text within the realm of fiction, and at once lighthearted and inspirational. While his classmates recite the morning cheer, newcomer Albie Newton is deep in thought: 'Albie started formulating plans to make some friends./ I'll construct a special gift before the school day ends.' He is oblivious to the fact that his friend-making mission doesn't get off to a good start when he writes a sonnet during a spelling quiz and creates a magnificent painting in art class, and then brazenly commandeers materials that others are using. All is forgiven when the boy unveils his 'special gift'—a combination spaceship/time machine—and the kids take it for a spin. In her U.S. debut, Spanish illustrator Garay presents kinetic, vividly colored digital cartoon art that humorously conveys Albie's mental and physical energy. This engaging tale offers messages about being oneself, accepting differences, and forging friendships." —Publishers Weekly

"With a nod to the famous inventor, Albie's passion as a thinker and a tinker is clear from the start. He arrives at a new school intent on constructing a special gift to befriend his classmates. Unfortunately, he shirks his clean-up duties, making others pick up the slack, and monopolizes all the craft supplies. Finally, a surprisingly astute Shirley dissuades the frustrated student mob saying, 'Maybe Albie didn't know. Let's look at what he made.' His monumental spaceship time machine wins them over and the final spread shows a shot of the class, including the teacher, wearing historical costumes in space. Garay's illustrations are colorful and humorously incorporate tools and objects into the background of each page while Funk's satisfying rhyme propels the story like one of Albie's chugging inventions. VERDICT Part ode to creativity, part reminder to be a conscientious classmate, this title will find its niche in elementary STEM collections and classrooms everywhere." —School Library Journal
 
 
-
Read more
ABOUT THE AUTHOR(S)
Josh Funk is from MA, where he spends his days writing computer language and his free time writing picture book rhymes. He is the author of Lady Pancake & Sir French Toast (Sterling), its sequel, The Case of the Stinky Stench (Sterling), Pirasaurs (Scholastic), and Dear Dragon (Viking).

Ester Garay is a children's book illustrator and designer who studied art in Copenhagen and London. She lives in Sitges, Spain, with her pug, Leela.
Albie Newton (Picture Book Trailer)